ALMUTAWAKIL ALALLAH SULTAN ISKANDAR ALHAJ
DYMM Almutawakkil Alallah Sultan Mahmud Iskandar Alhaj ibni almarhum Sultan Ismail DK SPMJ SPDK DK(Brunei) SSIJ PIS BSI
Almarhum Sultan Mahmood Iskandar diputerakan di Istana Semayun, Johor Bahru pada 8 April 1932. Ayahandanya ialah almarhum Sultan Sir Ismail (al Khalidi) ibni almarhum Sultan Sir Ibrahim (al Masyhur) ibni almarhum Sultan Sir Abu Bakar ibni almarhum Temenggung Tun Ibrahim ibni almarhum Temenggung Daing Abd Rahman (merupakan keturunan Bugis dari Pulau Sulawesi, Indonesia). Bondanya ialah almarhumah Sultanah Tunku Aminah binti Tunku Abdul Majid.
Baginda mendapat pendidikan di Sultan Abu Bakar English College, Johor Bahru, Trinity Grammar School, Sydney Australia dan South Devon Technical College, Torquay, UK. ik oleh ayahandanya menjadi Tunku Mahkota Johor pada 8 Mei 1959 tetapi dilucutkan dari jawatan tersebut pada 10 Ogos 1961 dan digantikan oleh adindanya Tunku Abdul Rahman. Pada 1 Dis 1966 baginda diberikan gelaran Raja Muda Johor. Baginda telah dilantik semula menjadi Tunku Mahkota Johor pada 29 April 1981. Apabila ayahandanya mangkat pada 11 Mei 1981 Tunku Mahmood Iskandar telah dilantik dan dimasyhurkan sebagai Sultan Johor.
In 1956 : ALMARHUM Sultan (extreme left) with his father then Tunku Mahkota Ismail (extreme right) and his mother (4 from left) , brother (Tengku Abd Rahman) and sister (Tengku Maimunah)
Sultan Iskandar merupakan Sultan Johor yang pertama dilantik menjadi Yang DiPertuan Agong. Nenda dan ayahanda baginda telah menolak untuk dilantik menjadi Yang Di Pertuan Agong apabila sampai giliran baginda berdua. Sultan Iskandar adalah Sultan Johor pertama menerima perlantikan sebagai Yang Di Pertuan Agong Malaysia yang ke 8 pada 26 April 1984 dan ditabalkan di Istana Negara, Kuala Lumpur pada 15 November 1984.
Semasa baginda bertahta di Istana Negara, pemerintahan Negeri Johor telah dipangku oleh DYTM Tunku Mahkota Johor, Tunku Ibrahim Ismail ibni Sultan Iskandar. Baginda menamatkan tugas sebagai SPB YDPA pada 25 April 1989 dan kembali memerintah Negeri Johor.
Baginda berkahwin kali pertama pada 5 Januari 1956 dengan Puan Kalsom binti Abdullah @ Josephine Ruby Treverrow (dilahirkan di England pada 2 Dis 1935- kemudiannya bergelah Che Puan Besar) tetapi kemudiannya berpisah pada bulan Oktober 1962.
Che Puan Kalsom binti Abdullah @ Joshepine Ruby Treverrow
Che Puan Besar Hajjah Kalsom (semasa pengkebumian alMarhum Sultan Iskandar)
Perkahwinan Baginda dengan Che Puan Kalsom dikurnai dengan seorang putera dan tiga puteri, iaitu:
(1) Tunku Hajjah Kamariah Aminah Maimunah Iskandariah binti almarhum Sultan Iskandar al-Haj, Tengku Puan Panglima di-Raja (diputerikan pada 11 Julai 1956) dan berkahwin dengan Tengku Sulaiman Shah al-Haj ibni almarhum Sultan Salahuddin Abdul Aziz Shah al-Haj, Tengku Panglima di-Raja Selangor.
Tunku Kamariah Aminah Maimunah Iskandariah
(2) Tunku Hajjah Zabedah Aminah Maimunah Iskandariah binti almarhum Sultan Iskandar al-Haj (diputerikan pada 20 Oct 1957), Tengku Besar.
Tunku Besar Hajjah Zabedah
(3) Tunku Ibrahim Ismail, DK, SPMJ, SPDK (diputerakan pada 22 Nov 1958. Kemudiann berkahwin pada 22 Sept 1982 dengan Raja Zarith Sofiah binti al-Marhum Sultan Idris al-Mutawakil Allah Afifullah Shah. Tunku Ibrahim kemudiannya dilantik menjadi Sultan Johor pada 23 Jan 2010.
(4) Tunku Hajjah Azizah Aminah Maimunah Iskandariah binti almarhum Sultan Iskandar al-Haj, Tengku Puan Pahang (1986) diputerikan pada 5 Ogos 1960). Tunku Azizah berkahwin pada 6 Mac 1986 dengan Tengku Abdullah ibni Sultan Haji Ahmad Shah al-Mustain Billah, Tengku Mahkota Pahang.
Tunku Azizah Aminah, Tengku Ampuan Besar Pahang
Sultan Iskandar berkahwin kali kedua pada 20 Ogos 1961 dengan Tengku Hajjah Zanariah binti Tengku Ahmad (Sultanah Zanariah) (diputerikan di Pasir Mas, Kelantan pada 5 Julai 1940).
Perkahwinan baginda dengan Sultanah Zanariah telah dikurniakan dengan seorang putera dan lima orang puteri:
Tunku Mariam Zaharah binti almarhum Sultan Iskandar Alhaj (diputerikan pada 4 Sep 1962) – berkahwin pada tahun 1999 dengan Tengku Ahmad Zainul Abidin bin Tengku Muhammad Zaid (berpisah). Dikurniakan seorang putri:
Tengku Sofiyya binti Tengku Ahmad Zainul Abidin
Tunku Norani Fatimah binti almarhum Sultan Iskandar Alhaj diputerikan pada 17 Jul 1963) dan berkahwin dengan Encik Ramlan bin Dato' Harun Idris pada tahun 2000.
Tunku Maimunah Ismailiah binti almarhum Sultan Iskandar Alhaj diputerikan pada 20 Okt 1967 dan berkahwin dengan Dato' Mahzan bin Dato' Yahya DPMJ pada tahun 2004. Dikurniakan seorang puteri:
Puteri Wan Mahzanah Huriyyah binti Dato' Mahzan
Tunku Abdul Majid Idris Ismail Ibrahim binti almarhum Sultan Iskandar Alhaj DK, SPMJ, SMJ. Tunku Bendahara. (diputerakan pada 20 Jul 1970. Berkahwin pada 13 Jan 2005 dengan Tunku Teh Mazni binti Tunku Yusuf (dilahirkan pada 2 April 1976 di Kedah. Dikurniakan seorang putera dan seorang puteri:
(1) Tunku Mahmud Iskandar
(2) Tunku Aisyah Menjalara Iskandar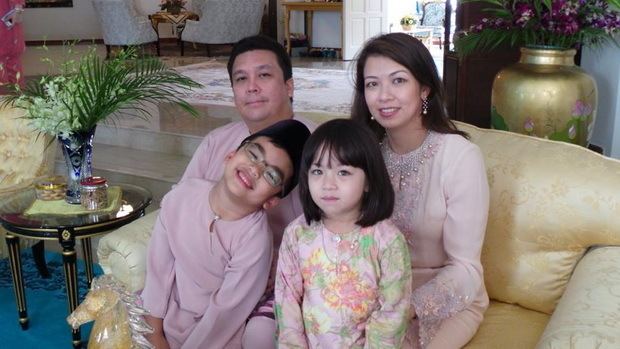 Tunku Bendahara Johor, Tunku Abdul Majid Idris, isteri Tunku Teh Mazni dan dua anakanda mereka
Tunku Muna Najihah binti almarhum Sultan Iskandar Alhaj diputerikan pada 12 Apr 1973 dan berkahwin dengan Kdr Shaftdean Lufty bin Rusland psc TLDM. Dikurniakan 2 orang putera dan 3 orang puteri:
(1) Putra Wan Iskandar Abdul Rahman Uwais Sirahuddin (2002)
(2) Putri Wan Zanariah Imanina Munawarah Nora Iskandariah (2004)
(3) Putra Wan Muhammad Umayr Sharafuddin bin Shaftdean (2007)
(4) Putri Wan Najiah Umayra Munawarah (2007)
Tunku Aminah Kalsom Masera Mariam Zahirah Iskandariah binti almarhum Sultan Iskandar Alhaj diputerikan pada 6 Jun 1979 adalah graduan Universiti Islam Antarabangsa, Malaysia (IIUM), Gombak (BA Hons. 2005).
sewaktu almarhum menjadi Raja Muda-bersama isteri dan putera-puteri
Under the elective monarchy system of Malaysia, Sultan Iskandar was elected to be the 8th Yang Di-Pertuan Agong on 9 February 1984 by the council of rulers, shortly before his predecessor's term expired on 26 April 1984. He succeeded the Sultan of Pahang as the Yang-Di Pertuan Agong on 26 April. A royal investure was held shortly after that–in which he was donned in the traditional suit of the Agong, whereby he was officially installed. Sultan Iskandar served in the capacity as the Yang-Di Pertuan Agong until 1989, whereby the Sultan of Perak succeeded him.
On 8 April 2006, the Sultan appointed his grandson Tunku Ismail Ibrahim, the son of the Tunku Mahkota as the Raja Muda during an investure in conjunction on his birthday. The rank of Raja Muda denotes that Tunku Ismail is second in position in terms of the order of succession to the Johor royal throne.
Sultanate Succession. Prior to his life as the Sultan or Agong, and even during the 1980s and early 1990s, Tunku Mahmud's reputation was more or less marred by a number of alleged controversial incidents which received occasional attention from the media. One of these earliest incidents was the loss of his status as Tunku Mahkota in 1961—a position which his father, Sultan Ismail, appointed to him two years earlier, citing reasons of alleged misbehaviour after confidential reports accusing him of incarcerating a policeman reached the Sultan. Tunku Mahmud's younger brother, Tunku Abdul Rahman was appointed as the Tunku Mahkota in favour of him.
Nevertheless, in 1966, Tunku Iskandar was appointed the Raja Muda which puts him second in line to the throne. In April 1981, Tunku Mahmud was reinstated as Tunku Mahkota shortly before his father's death the following month and was subsequently installed as the Sultan of Johor, under the orders of his father.
However, some eyewitnesses challenged the legitimacy of Tunku Mahmud's reappointment as the Tunku Mahkota, by arguing that they witnessed Sultan Ismail already having lapsed into coma at the time of his appointment as the Regent. Records stated that Sultan Ismail lapsed into comatose on 8 May, three days before his death. Relations with the Menteri Besar of Johor, Tan Sri Datuk Othman bin Mohd Saat deteriorated when the latter questioned Tunku Iskandar's legitimacy to the throne, which led to an incident which saw the Sultan issuing an order to the Menteri Besar to vacate his office within 24 hours, shortly after Sultan Ismail's death, citing reasons for the need for that office space for his own. The Menteri Besar heeded his order, though the Sultan did not move in as he had said. Othman Saat subsequently resigned the following year as the Menteri Besar. The Sultan also ordered all the 'honours and awards' given to Othman by the previous Sultan (including DK(Johor), and all the Datukship to be returned to the government.
Allegations of Criminal Misconduct. In 1972, Tunku Mahmud was charged for causing assault with a mace to two men for overtaking his car and was convicted the following year. A year later, reports also surfaced another similar attack upon a young couple, when Tunku Iskandar, together with his bodyguard, attacked them with chemicals and a mace after having offended him. Another alleged incident took place at about this time when Tunku Mahmud chained up two policemen in a dog kernel for day after having angered him.
Five years later, Tunku Mahmud was charged and convicted of manslaughter after shooting and killing a man near his private helicopter whom he took to be a smuggler. In both cases, his father, Sultan Ismail, intervened and granted official pardons to Tunku Iskandar. Similarly, his eldest son, Tunku Ibrahim Ismail, was convicted in the 1980s of shooting dead a man in a nightclub during a feud, but was quickly pardoned.
In 1987, Sultan Iskandar was accused of causing the death of a golf caddy in Cameron Highlands by assault, following an incident in which the golf caddy laughed when the Sultan missed a hole. Tunku Abdul Rahman, Malaysia's first Prime Minister, pointed out that the Sultan (then the Agong) could not be prosecuted due to the immunity that was accorded to the rulers, yet he condemned Sultan Iskandar's actions at the same time. In the end the matter was let off without much public attention. The brother of the caddy–who also suffered injuries from the incident, being distressed from what he saw, subsequently ran amok in Kuala Lumpur and had to be quarantined in a mental hospital. (from WIKIPEDIA)
Days as the Yang di-Pertuan Agong of Malaysia (1980s).Shortly before his election as the Yang-Di Pertuan Agong in 1983, a spate of reports alleging Sultan Iskandar's intention to launch a coup d'état by launching a state of emergency to overthrow the government circulated within political circles, which reached Mahathir himself. The Sultan was reportedly having fostered close relations with several key military personnel, including the Army chief himself. The government subsequently took action to curb constitutional loopholes within the constitution and took to task of reducing the power of royal veto in passing legislation, culminating to a constitutional crisis in late 1983. Nevertheless, during his inaugural speech as the Agong in 1984, about a month after the constitutional amendments were passed in parliament, Sultan Iskandar voiced public support for the revised constitution and pledged to act in accordance to the Prime Minister's advise.
A diplomatic scandal between the United Kingdom and Malaysia broke out in 1984, when several British newspapers published Sultan Iskandar's coronation, citing the headlines such as "Killer becomes King" and "King a Killer", which enraged the Malaysian government, who demanded an apology from the British government. The British government refused to apologise on behalf of the newspapers, hence triggering tensions between the two countries.
Two months later, in June 1984, Sultan Iskandar in his capacity as the Agong, surprised the Malaysian public when he publicly called upon the then-Deputy Prime Minister, Musa Hitam, to make a public apology in front of the entire congregation present at the National Mosque. Sultan Iskandar, on his part, was angry over remarks which Musa made during the course of the 1983 constitutional crisis that he deemed as disrespectful. Musa abided to the Agong's demand and boldly came forward to make the apology, which was greeted by a thunderous applause from the entire congregation. The event, which was broadcasted live throughout on the Malaysian Radio (although the television stations abruptly terminated its broadcast halfway), was seen by many observers as an act of confrontation by the Agong to put Musa in his place.
In 1988, also serving in his capacity as the Yang-Di Pertuan Agong, the Lord President of the Federal Court Tun Salleh Abas was sacked by the Agong in what led to the 1988 Malaysian constitutional crisis. However, observers suggested a remarkably warm relationship between then-Prime Minister Dr. Mahathir Mohamad with the Agong, both of whom shared common resentment against the chief justice, Salleh Abas. In 1973, Tunku Iskandar was convicted of assault and was sentenced to six months imprisonment, of which Salleh Abas served as the public prosecutor hearing the case. As the public prosecutor, Salleh had appealed to the chief justice, Raja Azlan Shah (now the Sultan of Perak), for handing down a heavier sentence for Tunku Iskandar, which naturally earned his wrath. The sacking of the Lord President, was however not without controversy, given the alleged manner in which the Agong and Prime Minister had handled the matter–including an incident which the Agong had refused to forgive the Lord President in spite of Salleh's willingness to offer his apology to the Agong, which he turned down.
Singing with Mohamad Rahmat
Biarpun macam-macam orang kata tentang almarhum Tuanku, sebagai anak Johor, amat berbangga dengan karakter Sultanku. Tuanku sebenarnya amat unik berbanding dengan Sultan-Sultan yang lain. Kelebihan yang paling ketara ialah keberanian, sifat berterus terang dan sifat patriotisme yang ada pada diri baginda. Baginda sangat aktif dalam sukan atau aktiviti lasak seperti sukan berkuda, wind surfing, menunggang motor besar dan yang paling mengkagumkan ialah, baginda seorang 'qualified pilot'.
Baginda gemar menegur kesalahan rakyatnya tanpa mengira pangkat khususnya pegawai Kerajaan Johor yang suka hidup bermewah-mewah (rumah mengalahkan istana Sultan), korupsi, dan lupa tugas mereka untuk membangunkan Negeri Johor. Bini berlagak mengalahkan bini Marcos. Yang ni kalau Sultan bagi penampar memang amat patut sangat-sangat. Sultan Iskandar mangkat pada 22 Januari 2010.
Baginda juga amat berani memberikan pendapat yang kadangkala amat bertentangan dengan keputusan pemimpin politik negara seperti isu pembinaan Jambatan Bengkok bagi menggantikan Tambak Johor, isu Batu Putih dan berbagai lagi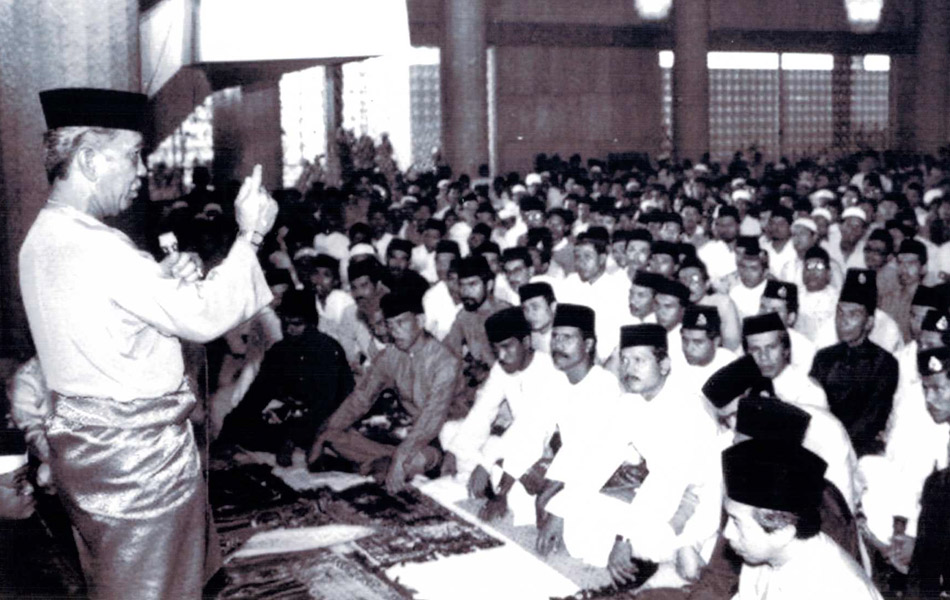 SEMOGA ALLAH MENCUCURI RAHMAT KE ATAS RUH ALMARHUM
WHAT FAUZIAH ISMAIL WROTE ABOUT TUANKU
(Ref: xmatters.blogspot.com)
ANY Johorean would tell you that despite his serious demeanour, Al-Marhum Sultan of Johor Almutawakkil Al-Allah Sultan Iskandar ibni Almarhum Sultan Ismail was a person with a warm and generous personality. Even back when he was Raja Muda of Johor and then Tunku Mahkota, it didn't surprise Johoreans to see him stopping his car by the roadside at the main road fronting the Istana Besar to chat with his subjects. During the massive flash floods in the state, Sultan Iskandar -- moved by the plight of his people -- handed out aid, believed to be a substantial sum, from his own pocket.
When he served as the eighth Yang di-Pertuan Agong between April 26, 1984 and April 25, 1989, he donated his salary to various scholarship boards that were open to Malaysians of all races.
As the King, Sultan Iskandar commuted between Johor Bahru and Kuala Lumpur via helicopter. He was said to have told his inner circles that Johor Bahru was home while Kuala Lumpur was the office. Sultan Iskandar flew every aircraft in his fleet. All of his various transit palaces had their own dedicated helipads.
In an article in the Professional Pilot magazine, Grant McLaren wrote that Sultan Iskandar made a point of keeping up to date on all the various business aircraft and avionics options in the world market. McLaren wrote that Sultan Iskandar's professional flying abilities were mostly self-taught by reading aircraft operating manuals. "In fact, His Majesty prepared himself to fly the new GIV by spending a few weeks with Gulfstream flight manuals, backed up with limited coaching from his safety crews."
He was also apt in handling motorcycles, reportedly possessing the skills to strip a motorcycle down to its component parts and then reassembling it.
Within private circles, Sultan Iskandar was fondly known as "Moody", but not a reflection of emotions but a testimony to his first name "Mahmud".
He was most noted for his independent mindset, something which is synonymous with most Johoreans. He had over the years voiced out opinions on various government issues.
At the inaugural session of the 12th Johor State Assembly in 2008, the Sultan had stated his stand on Malaysia's sovereignty over Pedra Branca and vowed to find legal means to regain the island's sovereignty.
He also caused a minor stir at the launching ceremony of the Iskandar Development Region in 2006 when he said that the Causeway, which connects Johor and Singapore, should be removed to allow ships to pass through and promote development of the state.
He also remarked that the people should be wary of foreigners as they were "vultures" and also urged the people not to hold them in high regard, citing his displeasure that his ancestors were "deceived" by dirty tactics employed by colonialists to build the Causeway. The sultan enjoyed keroncong and Radio Johor Best 104, a private radio station based in Johor Baru, featured the music from 10pm to 2am. He also enjoyed Kopi O.
*As appeared in the NST January 23rd, 2009.
SEKITAR HARI PERMAKAMAN ALMARHUM
SEMOGA ALLAH MENCUCURI RAHMAT KE ATAS RUH ALMARHUM
--------------------------------------------
.