.
Malaysia sememangnya kaya dengan keindahan semulajadinya. Bermula dengan hutan khatulistiwa yang menjadi terokaan saintis-saintis dari seluruh dunia membuat pelbagai penyelidikan berkaitan flora dan fauna. Hutan-hutan Malaysia juga turut menyajikan pergunungan untuk didaki dan air terjun dan sungai yang indah.
Malaysia juga mempunyai jaluran pantai yang indah dan jauh nun di luar pantai ratusan pulau melambai pelawat dan pelancong untuk mendatanganinya.
Aku sendiri, walaupun punya keinginan untuk mendarati di pulau-pulau yang terkenal indah ini, setakat ini amat sukar untuk memenuhi keinginan tersebut. Setelah lebih setengah abad bernafas di bumi Malaysia ini aku hanya pernah mendarat di beberapa buah pulau sahaja; iaitu
Pulau Pinang,
Pulau Tioman, Pulau Langkawi, Pulau Pangkor, Pulau Indah, Pulau Labuan dan Pulau Tekajung (Sarawak).
Selain dari menambahkan ilmu pengetahuan aku sendiri, aku ingin mempromosikan pulau-pulau indah ini untuk pembaca blog aku.
Pulau Perak terletak di kedudukan latitud 5' 42" 0 Utara dan longitud 98' 55" 60 Timur adalah sebahagian dari Negeri Kedah. Menurut sejarah pulau ini dijumpai oleh C.R John pad
a tahun 1926.
Kedudukannya di tengah-tengah pintu masuk Selat Melaka menjadikan ia amat strategik. Pulau yang mempunyai keluasan 15000 meter persegi ini adalah batu granite dan tidak diduduki oleh manusia dan menjadi tempat perlindungan nelayan apabila berlaku ribut di lautan. Ia juga bukan pulau pelancongan. Kedudukan yang paling tinggi di pulau ini ialah 88 meter dari aras laut. Kerajaan Malaysia ada membina jeti, 'heli pad' dan rumah api di atas pulau ini. Ia juga adalah kawasan perlindungan marina.
DIKATEGORIKAN SEBAGAI PULAU BESAR
....dalam proses pencarian maklumat.
Pulau Payar terletak kira-kira 15 batu nautika di sebelah selatan kepulauan Langkawi pada kedudukan latitud 5' 42" 0 Utara dan longitud 98' 55" 60 Timur adalah sebahagian beberapa buah pulau dalam pentadbiran Negeri Kedah. Menurut sejarah pulau ini dijumpai oleh C.R John pada tahun 1926.
Pulau Payar mendapat status sebagai Taman Marina memberikan perlindungan kepada kehidupan dan pembiakan marina di kawasan berkenaan. Pulau Payar juga terkenal sebagai lokasi untuk aktiviti penyelaman dan snorkeling bagi melihat keindahan batu karangnya.
Dalam gugusan Taman Marina Pulau Payar ini terdapat beberapa buah pulau kecil lain seperti
Pulau Lembu, Pulau Segantang dan Pulau Kaca yang dikelilingi oleh batu karang yang menjadi pusat pembiakan hidupan dan tumbuhan laut.
Banyak spesis ikan dan hidupan laut yang semakin pupus terdapat dalam kawasan Taman marina Pulau Payar ini. Kawasan ini meliputi 2 km panjang dan 1/4 km lebar. Selain dari itu terdapat pantai yang indah untuk perkelahan, laluan untuk pejalan kaki (denak) bagi peminat penerokaan keindahan alam.
Pelawat ke Pulau Payar boleh mengambil feri dari jeti bandar Kuah, Langkawi dengan menaiki catamaran atau bot laju. Perkhidmatan catamaran dioperasikan oleh Langkawi Coral, mengambil masa 45 minit untuk sampai ke Pulau Payar.
PULAU-PULAU DI PULAU PINANG
Namanya mungkin asing bagi sesetengah orang, terutama bukan penduduk

Pinang berbanding lokasi tumpuan umum seperti Batu Feringghi, Bukit Bendera atau Pulau

Jerejak. Seindah namanya, begitulah yang dapat dinikmati apabila mengunjungi pulau berkeluasan 115.2 hektar itu yang berhampiran dengan tanah besar di Batu Kawan, Seberang Perai Selatan.

Mengunjungi Pulau Aman menjanjikan ketenteraman dan ketenangan menerusi sumber alam semula jadi yang masih tidak terusik selain daripada menambah lagi ilmu pengetahuan atau sejarah tanah air.

Percaya atau tidak pulau yang juga perkampungan nelayan itu menawarkan pengalaman menarik dan menakjubkan. Mendengar nama Makam Purba, Gudang Peluru, Gua Lanun, Telaga Emas, Batu Payung dan Batu Perompak pasti mencetuskan kemusykilan untuk mengetahui lebih lanjut lagi.

Malah, pokok sukun tertua di Malaysia terdapat di pulau itu yang ditanam seorang guru agama, Tok Awang Akib pada 1890, menjadikan usianya kini 120 tahun dan disahkan Institut Penyelidikan dan Pembangunan Pertanian Malaysia (Mardi).

Mengikut cerita penduduk, Pulau Aman diterokai pada 1783 selepas meletus peperangan di antara Kedah dan Siam sebelum pulau itu menjadi tempat berlindung. Selain itu,

ia turut menjadi tempat lanun atau perompak berselindung serta menyembunyikan senjata api.

Sejak itu, satu demi satu sejarah Pulau Aman terlakar sehingga mewujudkan pelbagai destinasi menarik yang kini menjadi tumpuan pelancong.

Jika ke situ, kunjungan tidak lengkap jika tidak ke Telaga Emas yang terletak beberapa meter saja dari pantai di utara pulau. Berdasarkan sejarah, seorang penduduk pulau

itu menemui mata air yang mengalir di tepi pantai pada 1789 sebelum menggalinya untuk dijadikan perigi atau telaga bagi kegunaan penduduk kampung. Ketika menggali, cangkulnya terkena objek keras dan selepas diperiksa, objek itu adalah tempayan emas. Penduduk kampung yang dimaklumkan mengenai kejadian itu, bergegas ke tempat berkenaan sebelum mendapati tempayan itu tiada sebaliknya cuma batu berwarna kuning keemas-emasan. Inggeris yang ketika itu mentadbir Pulau Pinang, menghantar ketulan batu emas itu ke negara berkenaan untuk dianalisis dan keputusannya, batu itu hanya berwarna emas.

Menariknya, meskipun terletak kurang dua meter dari tepi pantai, kandungan air perigi itu tidak masin sepertimana air laut. Berhampiran Pulau Aman, terletak Pulau Gedong yang mengandungi Batu Perompak, Batu Payung, Gua Lanun, Gudang Peluru dan Makam Purba.

Batu Perompak diberi gelaran sedemikian kerana ia menjadi tempat lanun berehat manakala Batu Payung pula terletak berhampiran pantai dengan batu berbentuk payung. Gua Lanun adalah gua yang menjadi tempat berlindung lanun suatu ketika dulu manakala Gudang Peluru, dijadikan tempat simpanan senjata api lanun.

Ketika pemerintahan Inggeris pada 1901, sebuah bangunan dibina di atas tapak berkeluasan 12 x 6 meter persegi bagi tujuan menyimpan bahan letupan dan memantau laluan kapal laut. Pada 1950-an, pulau ini didiam lebih kurang 1,000 penduduk, termasuk Cina sebelum beransur kurang berikutan ramai penduduk bekerja dan menetap di tanah besar. Hari ini ada 48 keluarga yang jumlahnya hanya 250 orang.

Pulau ini mendapat kemudahan air bersih dan tenaga elektrik yang disalurkan melalui paip dan kabel bawah tanah dari tanah besar.
Perjalanan ke Pulau Aman menaiki bot dari jeti Batu Kawan mengambil masa 30 minit. Menariknya, lalu di mana saja rumah penduduk, pasti ada pokok sukun. Selain nelayan, penduduk di sini turut mengusahakan ikan masin, kerepek sukun, belacan serta ternakan ikan dalam sangkar. Bagi mereka yang berhasrat untuk bermalam, pelbagai chalet disediakan pada kadar RM100 ke RM200 semalam.
.
Pulau Jerejak
ialah sebuah pulau
yang kecil di selatan P.Pinang
yang terkenal pada suatu ketika sebagai sebuah penempatan untuk banduan yang dibuang negeri.
Luasnya 362 hektar. Pulau Jerejak kini boleh ditiba dengan menaiki feri dari Bayan Lepas.
Francis Light, pengasas Pulau Pinang, dikatakan tiba lebih dahulu di Pulau Jerejak pada awal tahun 1786 sebelum menuju ke Pulau Pinang. Pada tahun Wellesley mencadangkan bahawa Pulau Jerejak dijadikan tapak untuk Fort Cornwalis. Cadangannya untuk membina sebuah pangkalan tentera di Pulau Jerejak berdasarkan tujuan untuk mengawal bandar Jamestown yang kini dikenali sebagai Bayan Lepas.
P
ada awal tahun 1794, satu wabak malaria yang amat diakibatkan oleh pemugaran hutan untuk mengasaskan Georgetown mengorbankan banyak nyawa, termasuk juga James Light pada dirinya. Oleh itu, Wellesley tidak menyokong Pulau Pinang sebagai tapak untuk Kota Cornwallis. Walaupun demikan, cadangan Wellesley tidak diterima kerana Georgetown telah menjadi sebuah pelabuhan yang menguntungkan dan Jamestown atau sebarang kemudahan ketenteraan di Pulau Jerejak jelas tidak diperlukan.
Diakibatkan oleh keputusan Francis Light yang awal bahawa pendatang akan dibenarkan memiliki apa-apa sahaja tanah yang dipugar oleh mereka, Pulau Pinang dibanjiri oleh pendatang-pendatang. Sebagai langkah mencegah, semua pendatang harus diperiksa di pusat pemeriksaan kesihatan Pulau Jerejak sebelum dibenarkan mendarat di Pulau Pinang.
Pada tahun 1910, Pulau Jerejak dijadikan sebuah pusat kuarantin kesihatan untuk para pendatang, dan pada akhir dekad 1930an, sebuah hospital kusta dibina di bahagian timur pulau ini.


Sebuah tugu peringatan telah dibina di Pulau Jerejak untuk dua orang anak kapal daripada Angkatan Laut Empayar Russia yang maut apabila penajjap Zhemchug ditenggelamkan oleh penjajap Emden daripada Tentera Marin Kaiserliche dalam Pertempuran P.Pinang pada 28 Okt 191.
Selepas Perang Dunia II, terdapat kenaikan bilangan mangsa batuk kering dan oleh itu, sebuah sanatorium telah dibina untuk mangsa-mangsa penyakit tersebut di Pulau Jerejak. Pada 12 Jun 1969, Pusat Pemulihan Jerejak diasaskan sebagai sebuah penjara keselamatan tertinggi dan oleh itu, Pulau Jerejak mendapat nama samaran, Alcatraz Malaysia. Pusat ini akhirnya ditutup pada Ogos 1993.
Rancangan-rancangan telah dicipta untuk membangun semula Pulau Jerejak menjadi sebuah tempat peranginan pada tahun 2000. Inilah satu-satunya alasan untuk menutup semua institusi yang tidak "begitu canggih" namanya di pulau ini, seperti auditorium dan penjara.
Pada Januari 2004, Jerejak Resort & Spa dibuka untuk perniagaan. Tempat peranginan ini dibina di atas kawasan yang dahulunya merupakan pusat rawatan kusta. Pembangunan ini menimbulkan agak banyak perbalahan, dengan rasa bimbang terhadap penghapusan tinggalan dan warisan bersejarah pulau ini secara sistematik serta juga kesannya kepada ekosistem P. Jerejak yang mudah terjejas.
.
Pulau Kendi, on the southwestern tip of Penang island, off Gertak Sanggul, holds the distinction as the only place left in Penang with water so clear you can still see the rocks on the sea bed. And it's the only place left where you can still swim the sea without fear of a jellyfish attack.
The word "kendi" means flask in Malay, and the name comes from the shape of Pulau Kendi. Approaching Pulau Kendi from Gertak Sanggul, you will see the resemblance of a gargantuan flask lying on its size in the sea. No wonder Pulau Kendi is known in Hokkien as Hor Lor Su, Flask Island.

Long known to fishermen as well as anglers as the drop-off point before the open sea, Pulau Kendi was left largely unnoticed until recently, when reports appeared in the media that there are plans of turning it into a tourist destination.

Fearful that wanton development will wash onto its rocky shores, AsiaExplorers made a couple of trips to Pulau Kendi to ascertain its tourist potential, and to recommend how the beauty of Pulau Kendi can best be appreciated and tapped.

We found a scabrous outcrop in the midst of an emerald green sea. A beautiful island, densely forested, Pulau Kendi surrounds itself with rock formations of incredible variety and beauty. They come in a glorious selection of shapes, hues and sizes.

Relentlessly battered by the raging sea, they bear the natural signs of wear. As slippery as polished marble, and as sharp as razor, these rocks - which run the gamut from magma to sedimentary rocks to hard granite - are the sentinels that have kept the island well protected, and prevented all but the most hardy from ever landing here.

The hills are steep and clad with a healthy growth of vegetation, making exploration a rather challenging experience. The only sandy stretch of beach was no more than 100 feet in length. That was where we landed and picnicked. From there, we cut our way up the hill, crossed to the other side. There was a team of anglers perched precariously on the jagged outcrops between the water line.

On the steepest slope at the most hidden crevice, we found a cliffside adorned with scores of tiny idols. There was Kuan Yin, the goddess of mercy, as well as a plethora of deities, statues no taller than one foot. They guard, they watch over the open sea, while the waves blast on the rocks below. We could only speculate who have placed them there.

Although the island was uninhabited, we found signs of civilization in abundance, all over the place, in the form on inorganic refuse. The entire beach front was littered with plastic bottles, wrappers, tyre tubes.

It appears that the island is being used as a convenient dumping ground. We were disheartened by this disrespect for nature and the environment, and that the people of Malaysia in general, and Penang in particular, could not lift themselves above the filthy habit of littering the land. We must say that this is the work of a small minority, but the result affects the well-being of the entire majority.

If Pulau Kendi is to be recognised as a tourist destination, the first and most important item on the agenda should be a clean-up of the island. All inorganic refuse must be cleared. Footpaths can be cleared to traverse the island, taking visitors to specific look-out points. In the seas, fish fry, and planktons should be released to improve on the variety as well as quantity of fishlife. The corals should be breed. Angling should be controlled and licensed. Commercial fishing should be barred from approaching anywhere closer than three hundred metres from the island. Only environmentally conscious organisations such as AsiaExplorers should be allowed to bring visitors to Pulau Kendi, and a fee should be charged which will be used for the upkeep and maintenance of the island. AsiaExplorers further recommends that the caretaker, in the form of a forest ranger, should be authorised to issue summons to whoever is caught littering the island.

AsiaExplorers recommends that there should be no construction of any structures on the island, except for a caretaker's abode. Certainly no chalets here please. There should be no cement brought, as this will pollute the sea. No pier should be built. The only access should be by boat. It should remain a place where the environmentally conscious can come to appreciate the nearness to nature, in a pristine surrounding.

This is the most pristine part of Penang, the only pristine one remaining. If you ever consider visiting it, we urge you to keep it clean. It will be worth your effort.
.
Pulau Rimau merupakan sebuah pulau kecil yang terletak di tenggara Pulau Pinang di luar pantai Permatang Damar Laut
. Pulau Rimau menempatkan sebuah rumah api yang memberi bantuan arah kepada kapal laut yang memasuki Selat Pulau Pinang dari arah selatan. Rumah api ini dibina oleh pihak British pada tahun 1885 dari bahan binaan besi waja dan menaranya berwarna putih setinggi 17 meter dan dibina di dataran pada ketinggian 39 meter dari aras laut. Pulau ini tidak berpenduduk.
Kewujudan rumah api di situ menyebabkan pulau tersebut menjadi kawasan larangan kepada orang awam. Pulau ini dapat dilihat jelas dari pantai Permatang Damar Laut. Untuk melihatnya, kita perlu melalui jalanraya Permatang Damar Laut dari arah Bayan Lepas ke Batu Maung. Bersebelahan dengannya ialah Pulau Kendi. Kita boleh menyewa bot untuk mengelilingi pulau bagi melihat pemandangannya.
.
PULAU-PULAU DI PERAK
......dalam proses penyediaan
Pulau Jarak merupakan sebuah pulau yang agak jauh dari Tanah Besar,jarak dari Tanah Besar atau Lumut Perak dalam 34 km dan mempunyai keluasan lebih kurang 8 hektar dan purata kedalaman sekitar pulau ini anggaran 50m. Pulau ini tidak mempunyai pasir pantai melainkan batu batu dan tebing yang curam,kepada yang minat memancing di sini sangat sesuai sebagai distinasi memancing.
Pertengahan tahun 2004 satu pasukan Khas Topografi Wilayah Barat telah di tugaskan untuk membuat kerja kerja pemetaan ke pulau ini. Pasukan ini terdiri dari En Mohd Shah, En Rozaimy, En Halim, En Khalid, En Roslan, En Shaari dan jurufoto.
Waktu itu di Pulau ini telah ada penempatan satu pasukan tentera (Darat) kita bagi mengawal persekitaran dan menjaga nelayan nelayan asing dan mengikut cerita tentera di sini, disini memang menjadi destinasi persinggahan lanun untuk berlindung dari ribut atau laut bergelora
Penempatan tentera di Pulau Jarak yang mengawal keselamatan perairan
Pulau Tukun Perak yang juga dikenali sebagai Pulau Perak terletak kira-kira 87 batu nautika (162km) di Timur Laut Pulau Pinang pada kedudukan g
eografi garisan latitude 5 41.0 darjah Utara dan garis longitud 98 56.0 darjah Timur. Ia juga dikenali sebagai
Fairway Rock atau Fairway White Rock.
Pada purata kedalaman lautnya ialah 80-100m dan ada lokasi yang boleh pergi sehingga ke 120m. Lazimnya jenis ikan yang terdapat di sekitar pulau ini ialah
mangroove jack, spanish mackerel dan red/gold snappers.
Meneruskan pengembaraan ke pulau-pulau pantai barat Malaysia. Kali ini kita meneroka ke beberapa buah pulau di muara (delta) Sungai Klang. Terdapat beberapa buah pulau yang dibentuk oleh tanah mendap dikuala Sungai Klang. Dari beberapa buah pulau yang terbentuk dari delta Sg Klang hanya tiga buah sahaja yang dimajukan iaitu Pulau Ketam yang mempunyai majoriti penduduk dari kaum Tionghua, Pulau Indah (dulu dikenali sebagai Pulau Lumut) yang majoritinya berbangsa Melayu dan Pulau Carey (majoriti penduduk India dan Kaum Asli dari suku kaum Mah Meri). Pulau-pulau lain ialah; Pulau Tengah, Pulau Selat Kering (dulu: Pulau Che' Mat Zin) dan Pulau Klang.
Pulau Ketam
, literally translated, means "Crab Island". It is a small island located off the coast of Pelabuhan Klang, Selangor and was founded circa 1880. The island is easily accessible from the Port Klang jetty by ferry. The 'floating houses' that come to view as visitors approach the island are a sight to awe any city slickers. Perching casually on long wooden stilts, these dwellings are suspended about one to ten (1-10) metre above sea level. The main thoroughfares are narrow concreted pavements, whilst in the residential areas, the older rickety wooden plank bridges can still be seen. There are no cars in Pulau Ketam, only bicycles, some of which are motorised.
Pulau Ketam is equipped with almost all the basic facilities. It also plays a role as a major fish, crabs, prawns provider to Klang valley and a tourism spot of Negeri Selangor. Ferry services are available everyday. The journey takes will take about 30 minutes. Beside ferry, speedboat is also available 24 hours per day on call. If you have cargoes to deliver, cargo boats are available too.
The locals are mainly

Teochew

and

Hoklo

(Hokkien) Chinese, with

Teochew, Hokkien and

Mandarin Chinese

the main dialects spoken.
Aku mula mengenali Pulau Indah (masa itu namanya Pulau Lumut) di pertengahan tahun 1980an semasa aku duduk di Shah Alam. Adik aku Noor Adzim telah ditugaskan mengajar di sebuah sekolah di sana setelah menamatkan kursus perguruan di sebuah Maktab. Mula-mula dia merasakan benar-benar terasing dan terbuang. Pada masa itu Pulau Lumut merupana sebuah pulau perkampungan nelayan Melayu. Ada juga perkampungan kecil Orang Asli di situ. Ada beberapa buah perkampungan Melayu di sana yang dihubungkan dengan jalan tanah merah atau kepingan simen (slab). Tiada jalan raya dan kereta di sana. Hanya motorsikal atau basikal sahaja.
jeti lama yang telah roboh, tapi masih ada di situ
jeti baru yang menggantikan jeti roboh (patah) sehingga jambatan di bina
jambatan Pulau Indah
Untuk ke Pulau Lumut hanya dihubungi melalui bot (feri) dari Pelabuhan Klang sahaja. Di Pulau Indah ada sebuah jeti sahaja untuk feri/bot berlabuh. Perjalanan mengambil masa 45 minit. Itulah sahaja mode perhubungan pelawat atau penduduk pulau ke Tanah Besar Semenanjung. Sebahagian besar tepi pantai pulau dipenuhi oleh hutan bakau.
Tapi dalam beberapa tahun sahaja Pulau Lumut telah berubah wajah. ini adalah kesan dari projek Kerajaan membina West Port. Kerajaan membina sebuah jambatan pada tahun 1994 yang dihubungkan terus dari Lebuhraya KESAS. Mulai dari langkah itu, Pulau Lumut yang kemudian namanya ditukar kepada Pulau Indah terus membangun dengan pesatnya.
Pulau Inidah bukan hanya terkenal dengan Westportnya tetapi juga pusat pelancungan, homestay, aktiviti memancing dan terdapat sebuah pangkalan TLDM di sini iaitu KD Sultan Abdul Aziz yang menempatkan KD Sri Klang dan Pusat Hiderografi Nasional.
Pulau Carey

merupakan sebuah pulau yang terletak di dalam negeri

Selangor. Ia terletak di selatan

Pelabuhan Klang

dan utara

Banting. Pulau ini dinamakan bersempena Valentine Carey, seorang pegawai awam British di

Malaya.
Pulau Carey

merupakan sebuah pulau yang terletak di dalam negeri

Selangor

. Ia terletak di selatan

Pelabuhan Klang

dan utara

Banting

. Pulau ini dinamakan bersempena Valentine Carey, seorang pegawai awam British di

Malaya

.
Pulau Carey merupakan pulau lembangan mendatar yang besar terletak di daerah
Kuala Langat
.
Walaupun secara teknikal ia merupakan sebuah pulau, namun pada hakikatnya tanah pulau ini hanya dipisahkan dari tanah besar disebabkan oleh kehadiran
Sungai Langat
diantara keduanya.
Pulau Carey mendapat nama dari seorang pegawai British yang juga merupakan pengusaha ladang

kopi

dan

getah

bernama Valentine Carey, beliau dilihat arif dalam aktiviti pertanian dan kesuburan tanah pertanian yang telah digunakan melebihi 100 tahun.
Pulau Carey juga pernah dikenali dengan nama seperti Pulau Bangsar dan Telok Gonjeng.
Pada hari ini Pulau Carey juga mendapat jolokan "Pulau Sime Darby" kerana syarikat estet ladang

kelapa sawit

terbesar di

Malaysia

telah mendominasi tanah pulau ini yang rata-rata dijadikan sebagai ladang kelapa sawit komoditi.
Perladangan tulen kelapa sawit dilihat menjadi bahan asas kepada aktiviti pemprosesan minyak kelapa sawit mentah untuk dijadikan minyak masakan dan bahan asas campuran dalam minyak bio-diesel bagi pembakaran api mesra alam.
Industri kelapa sawit kadang kala mendapat reaksi negetif dan kritikan dari pelbagai pihak. Mereka berpendapat aktiviti penanaman tumbuhan komoditi tersebut dapat menyebabkan kerosakan terhadap sistem akuifer
air bawah tanah
, menyebabkan
mendapan tanah
, mencemarkan
ekosistem sungai
dan menganggu habitat semulajadi
hidupan liar
.
Jangka hayat pengeluaran hasil buah kelapa sawit beretrusan biasanya akan berakhir hingga umurnya mencapai 30 tahun, ini sekaligus memberi tempoh yang baik untuk mewujudkan kesinambungan antara haiwan, burung dan tanaman sekitarnya bagi mewujukan suatu hubungan simbiosis antara tanaman komoditi dan tumbuhan liar serta hidupan disekitar Pulau Carey, pihak

Sime Darby

telah menjalankan kegiatan penanaman semula pokok terancam dan cuba membangunkan semula kawasan rizab hutan paya bakau disekitar pesisir pantai pulau tersebut.
Pulau Carey cukup sinonim dengan kewujudan penempatan awal masyarakat

Orang Asli

,

Mah Meri

yang terkenal di

Malaysia

. Mah Meri merupakan salah satu dari 18 buah puak Orang Asli yang wujud di Malaysia. Komoniti Mah Meri di sini cukup ramai bilangannya mencapai 1400 orang, yang terkenal dalam aktiviti pembuatan

boneka kayu

dan

topeng

. Mereka membuat peralatan seni tersebut dari pokok kayu keras yang digelar Nyireh Batu dari famili Mahogany.
Tempat terbaik bagi melihat kehadiran puak ini adalah di Kampung Sungei Bumbun dimana mereka menjalankan aktiviti perniagaan kraftangan mereka di gerai-gerai dan pusat kraf setempat yang dibuka khas bagi tujuan tersebut.
Puak Mah Meri ini juga sebenarnya juga menarik pelancong dengan aktiviti tarian tradisional mereka, mereka biasanya memakai tengkolok daun yang diperbuat dari daun nipah dalam meraikan kedatangan pelancog dan aktiviti keraian mereka.
Pulau Carey juga mempunyai pantai berpasir halus tersendiri. Namun pantai Pulau Carey dilihat agak kotor dan dipenuhi dengan sampah, tayar-tayar dan sebagainya. Ini berikutan pantainya menghadap
Selat Melaka
yang sibuk dengan kapal dagangan serta lokasinya yang tidak terlalu jauh dari pelabuhan. Namun ada juga pantai yang bersih yang berpasir putih dan air yang agak sesuai untuk dijadikan mandian.
PULAU-PULAU DI MELAKA
Pulau Besar
is an island off the coast of

Malacca, and is located approximately 13 km from the mainland.
Visitors can board motorboats at Pernu, Umbai for the short trip to the island, or from the Malacca Pier, located at Melaka Raya. There are also ferries going to Pulau Besar from Anjung Batu jetty. The ferries leave the jetty approximately every 45 minutes. The journey to and fro will cost about RM14.00 for adults and RM7.00 for children below 12 years old.
If you are travelling by bus from Kuala Lumpur, you need to take an express to Melaka Sentral bus terminal and board any bus that is going to Merlimau / Muar. Just tell the driver that you are going to Anjung Batu and you need his favour to drop you at the right place. he will normally call out when the destination reached.
Pulau Besar looks like a pregnant lady lying on her back. The locals around Pulau Besar revere the island and attribute it to many legends. It has also become a place of pilgrimage to a large number of Indian Muslims in Malaysia. Many pilgrims come to Pulau Besar to visit a mausoleum believed to be of a

Wali, Sultan Ariffin Syeikh Ismail Waliallah. There are also numerous other graves visited by pilgrims such as that of Datok Janggut, Datuk Puteh and Nenek Kebayan. The group of 7 graves called Makam Tujuh Beradik were torn down by the state religious department during the 90's when the state government initiated construction work to build a hotel and golf course on the island. The resort operated for a few years before it eventually closed.
At the highest point on the island exist a large boulder that is split down the middle. It is named "Batu Belah" and is a favourite destination for local pilgrims. There also exists a cave which is said to be the place of meditation for another Wali named Yusof. Near this cave, it is claimed one can see the footprint of the Wali on a boulder. In 1997 the Malaysian government labeled such practices as deviant and tore down many buildings that were erected around the mausoleum. This caused an uproar in the Indian Muslim communities which frequented Pulau Besar. By 2006, a new hall had been built using private funds from many Indian Muslim businessman.
The island is considered a holy place by local believers. Visitors are advised to abstain from consuming pork on the eve of the day of visit and throughout their stay there. They are also to be in their best behavior while on the island. . Accommodation is available at the chalets available on the island, namely Chandek Kura Hotel. Many visitors however pitch tents along the coast. Food is easily available from the few stalls there. Free food and drinks are also available from a canteen next to the Wakaf Makam Tujuh Beradik.
Future development

.
There is new development for Pulau Besar. The New Strait Times on November 1, 2008 reported that Pulau Besar will be turned into the country's largest independent oil storage terminal by 2010.
Located about 40 km from the Petronas largest refinery complex in Sungai Udang, and the island itsef is along one of the world's busiest trade routes in the Straits of Malacca, it will see an investment of RM700 million and become a hub for the petroleum industry in this region.
Melaka Chief Minister Datuk Seri Mohd Ali Rustam said the project would be implemented as soon as the Environmental Impact Assessment by the Department of Environment (DoE) had been completed.
Pulau Upeh formerly known as 'Liha Das Pedra' meaning places of stones. During the Second World War, Pulau Upeh was used as a look-out point for invading battleships in the Straits of Malacca. It is also believed that this island was a pirates stop-over and hide-out.
Pulau Aur is located 65km east of Mersing, off Johor's east coast.
The island, along with Pulau Dayang, Pulau Lang and Pulau Pinang, are rated among the best diving destinations within the Johor Marine Park Area. The deeper waters around the area ensure good visibility and variety of marine life. Dive trips can be booked at most dive shops on any of the islands.
The rich pelagic action also attracts numerous sport fishermen, hoping to try their luck with the marlins or sailfish outside the marine park island. Many private yachts anchor at the calm waters between Pulau Aur and Pulau Dayang.

Towards the north-eastern tip about 200 metres off Pulau Dayang is Rayner's Rock, a solitary large boulder breaking the surface about 4 metres high.
Diving is good around the eastern portion with a mixture of both hard and soft corals providing shelter for a profusion of marine life. You can expect to encounter schooling yellowtails, rainbow-runners, and trevallies. Closer to the reef, there are usually groupers, damsels, butterfly fish, scorpion fish and lots of shells.

This submerged reef is located towards the South Pulau Aur and Pulau Pinang. The top of the reef begins at about 12 metres and slopes in excess of 25 metres.
If diving in right conditions with slight currents, a large number of prelagics including jacks, fusiliers, barracudas and black tip sharks can be sighted. Among the hard corals and scattered soft corals are wrasses, puffer fish, damsels, lionfish, snappers and in between rocky crevices, lobsters.

There are boats to the island from Mersing jetty or Sedili. The long boat journey takes about 4.5 hours, and most operators opt to depart in the late evening, travelling through the night to arrive the next morning on the island. If the seas are rough, the boat ride could take a little longer.
Sibu is one of Malaysia's unspoilt islands off the Peninsula's East Coast, facing the South China Sea. It is made up of several islands namely Sibu Besar Island, Sibu Tengah Island, Sibu Kukus Island and Sibu Hujung Island.
Approximately 6 km long and 1 km wide, the island abounds with lush tropical vegetation, and is noted for its beaches, hills, cliffs and exotic bird population.
Sibu has retained much of its natural beauty and tranquility. Almost untouched by progress, Sibu Island is the perfect hideaway from the rat-race of city life.
On the Southern end there is a small fishing village with a population of less than a hundred people. The local village continues to take out a living off the seas and a few of the younger generation option to work at the nearby resorts for a steadier income and a change of lifestyle.
The main activities on the island are snorkelling and diving. However one can take walks in the jungle to the fishing village or to the other resorts. There are pathways to most of these places. Fishing trips are regularly organized for the avid fishermen. Boat trips to the other islands can be arranged at the resort.
There are four main beaches on the Eastern side of Sibu where most of the beach resorts are located. Sibu Island Cabanas is situated on a beautiful long stretch of beach, facing Tinggi Island. The coral reefs are only a few minutes walk from the resort.
Pulau Sibu
Nicknamed the "General's Hat Island" by Chinese seamen hundreds of years ago, Tinggi Island is a large uninhabited island, which rises 2000ft. above the sea level. This delightful island is located about 20 nautical miles southeast of Mersing, on the east coast of Johor.
Tinggi Island is known for its mystical quality as much as its sheer physical beauty. It comprises the principal Tinggi Island, and eight smaller islets, namely Mentinggi Island, April Island, Nanga Kecil Island, Nanga Besar Island, Simbang Island, Lanting Island and Iboi Island and Peyembang Island. Only the first two islands Tinggi Island and Mentinggi Island - have been declared marine park.
Crystal-clear turquoise waters surround the cone-shaped island of Tinggi Island. The interior of this oval-shaped island is mostly covered with secondary lowland Dipterocarp rainforest. It is andowed with fresh waters, a sheltered harbour and coral reefs which abound with prolific marine life. It has a long coastline and while sandy beaches dotted with caves. The seas around it are teeming with coral, fish and reff making it a photographic haven.
This island has the highest residential population among the east coast Johor islands, with the latest tally estimated at 448 people, from three village settlements: Kampung Tanjung Balang, Kampung Pasir Panjang and Kampung Sebirah Besar. Accommodation for these visitors is available with the setting up of rustic resorts, inns and chalets on the main island. Some good beaches, particularly those at Tanjung Balang and Sebirah Besar, offer pleasant sand, sun and fun. Snorkelling, and scuba diving are some of the more popular pursuits here.
Pulau Tinggi
The name, Besar Island (formerly known as Pulau Babi Besar) is strange to many despite its idyllic beaches and stunning natural beauty. The island which is surrounded by Rawa Island, Sibu Island & Tinggi Island is characterized by quiet, clean beaches of powdery white sand that promises an amazingly spectacular view. Besar Island is fringed by crystal-clear azure waters that people can actually catch sight of the abundant reefs. To preserve the unspoiled marine life, the Government has gazetted it as a marine park to protect around 60 species of marine life from any activities that can harm their natural habitats within 2 nautical miles around the island.
Rich hues of wild vegetations are dappled throughout with the lush greens of the coconut palms and tropical jungles. There are about 7 - 8 small villages that are still populated by around 100 friendly dwellers who are mostly fishermen.
Another myth was about a fisherman couple who transformed into mermaids. This legend is so popular among the local folks that they believed at one time, a pregnant fisherman¡¦s wife was craving for a kind of seaweed, that is plentiful in the Mersing waters. After eating, she turned into a mermaid and the heartbroken husband became one too after eating the same seaweed. Until today, it is claimed that mermaids floating in couples can sometimes be spotted eating seaweed around the island. During low tide, tourists can see nibbling marks on the island rocks that proves the existence of the mammals.
Rising some 2,000 feet above the sea level. One of the largest islands off the coast of Mersing. Surrounded by 15 scattered islands. Several long streches of finest beaches with fine, soft white sand fringe the island carefully hidden from the outside world. A place irresistable to those who seek tranquility admidst charm of a village setting. The area houses most exotic coral reefs and underwater flora as well as numerous chalet and restaurant. Besar island is accesible by boat from Mersing town (approximately 30 minutes).
In the Mersing waters, there are at least 15 small and scattered islands and each is unique in its own way. All the while, tourists have only been accustomed to the popularity of Tioman Island in Pahang and Pemanggil Island in Johor which actually are situated within the same area.

This island got its former name, Pulau Babi Besar, (directly translated as Big Boars Island) from the numerous wild boars that roamed the island before man inhabited the place. Surprisingly, there is not a single boar on the island at present and thus, the reason for the change of name to Besar Island.
Pulau Besar
Pulau Rawa
Visited by many inernational tourists, Rawa Island is the perfect vacation spot for those who just wants to relax from the hussles and buzzes of the city life. The trip to the island will take approximately 1.5 hours by boat from Mersing. It is worth it though, a visitors will get to enjoy the scenery of the sea untainted by pollution.
Upon arrival, visitor will enjoy the beautiful scenery of the white sandy beach, tall palm trees with fluttering leaves, beautiful variety of corals and colourful creatures of the sea. Relaxing under the palm groves while letting the gentle wind blow your face is the best thing anyone could ever ask for. Other thing to take notice is the beautiful formation on the island.
Other than relaxing on the beach, some prefer to relax in a different method with activities such as snorkeling, scuba diving and spear fishing. Utilities and equipment for such activities are available at certain booths on the island.
There are chalets here for accomodation, each with their own unique services. So just lay back, relax, and enjoy the beauty that is Rawa Island.
Pulau Rawa
Pulau Tengah
Tengah Island is an uninhabited island. It lies nine nautical miles off the coast of Mersing on the South China Sea. It is an hour away by boat from Mersing town.
Near Besar Island, Tengah Island is 16km off the coast and is an easy 90-minute boat ride. During the 70's, the island became famous as a Vietnamese refugee transit camp which was subsequently closed in the early 80's.
In 1985, Tengah Island was one of the few islands gazetted by the Malaysian government as a Marine Park due to its abundant marine life and rare specials of fish and coral.
Besides that, Tengah Island also a great place to watch the giant leatherback turtles come ashore to lay eggs yearly especially during the month of July. There is a "members only" golf course and resort on the island. Spacious and comfortable cottages are available for booking.
Pulau Pemanggil
Pemanggil Island sits 45kms east of Mersing, the take-off point to most islands off the Southern coast of Peninsular Malaysia. It is situated next to Tioman, requires a 4 to 5 hours ride by boat from Mersing. To get to Mersing itself takes 4½ hours by car or roughly 6 hours by coach from KL.
As with most inhabited islands in Malaysian waters, Pemanggil has its fair share of history, mystery and spookytales. The island is fishermen's best-kept secret. It is well known for deep sea fishing and good hunting grounds for marlins, black ones if you''re fortunate, and mackerels.
This remote island is also famed for the beauty and abundance of marine life within its clear emerald waters. Its other magnetic charms include endless stretches of white sandy beaches and awesome snorkeling spots. Fishing and diving is excellent here.
For the adventurous, the hill outcrop of the island makes for a challenging climb and the summit holds an inherent scenic beauty of the far reaching ocean.
On the north-eastern coast of Pemanggil Island is Teluk Lancang, an isolated bay whew coconut trees grow in abundance admist the tropical vegetation. At the heart of the island, there is a huge boulder known locally as Batu Buau which locals regard as sacred. It would definitely not go unnoticed and is clearly visible as far as 50 km from the south of Tioman Island.
Pulau Pemanggil
.
Tioman Island

(Pulau Tioman) is a small island located 32 km off the east coast of

Peninsular Malaysia

in the state of

Pahang, and is some 39 km long and 12 km wide. It has eight main villages, the largest and most populous being

Kampung Tekek

in the north. Pulau Tioman is one of Malaysia's most popular small islands. Hailed as one of the world's most beautiful islands in the 1970s by TIME Magazine, Tioman Island lays claim to miles of golden sandy beaches, dense jungles and quaint villages. The total population of Tioman is about 500 people.
The densely forested island is sparsely inhabited, and is surrounded by numerous

coral reefs, making it a popular

scuba diving

spot. There are also a lot of resorts and chalets around the island which has duty free status.
Its beaches were depicted in the 1958 movie,
South Pacific
as
Bali Hai. In the 1970s,
TIME Magazine
selected Tioman as one of the world's most beautiful islands.
Apart from its diverse

marine life, the inland

rainforest

area, encompassing approximately 12,383

hectares, in Tioman is a strictly enforced nature reserve. There are several protected species of

mammals

on the island, including the

Binturong,

Long-tailed Macaque,Slow Loris,

Black Giant Squirrel,

Red Giant Flying Squirrel,

Mouse deer,

Brush-tailed Porcupine, and

Common Palm Civet, from a total of 45 species of mammals and 138 species of birds, including the majestic

Frigatebird. Moreover, Tioman has species that are endemic to its shores. The soft-shelled

turtle

and the Tioman

walking catfish

are both unique and can be seen on rainforest walks.
The island is served by ferries from the Malaysian mainland, and a propeller plane service by

Berjaya Air

from the

Changi Airport

inSingapore

and

Sultan Abdul Aziz Shah Airport

in

Subang,

Selangor.
Tioman is the biggest island on Malaysia's east coast. Said to be the home of Malaysian diving, if truth be told, the diving visibility here can sometimes be disappointing due to currents that bring plankton and river run-off here. However, most of the time, Tioman's diving opportunities do not fail to impress as most of the time the waters are clear resulting in diverse diving choices. Deep-diving enthusiasts will love Pulau Chebeh, the site of several giant manta sightings and huge gorgonian sea fans. Wreck divers will enjoy the Soyak Wreck – a sunken hull with soft and hard corals, Moorish idols, trevally and angelfish. Meanwhile, Labas – also known as Pirate Island – has a fascinating topography of submerged and semi-submerged boulders, making it perfect for muck diving.
There are plenty of dive resorts in Tioman so you're sure to get a good package deal especially if you look around beforehand. Officially the diving season stretches from March to October but monsoon season has been appearing later than usual; hence hardy divers who stay longer only have to share the island with a trickle of visitors.
Lying about 56 kilometres off the coast of Pahang, Tioman boasts a wide range of things to do involving water sport activities; landlubbers looking for things to see on the island are out of luck unless you count exploring and watching Tioman's various species of mammals and birds.
With a wildlife-rich rainforest and waters that are liberally sprinkled with white coral reefs, Tioman is a much sought-after destination by both naturalists and divers across Asia. Easily accessible via speedboat, ferry or flight from Mersing and Singapore, there are many things to do in Tioman, but snorkelling and scuba diving activities take precedence in most visitors' itineraries.
The largest and most developed of the volcanic islands that form the Tioman Marine Park, Tioman's waters are ideal for water sports such as kayaking as well as windsurfing plus its clear underwater visibility makes undersea explorations pleasurable. For a touch of adventure divers can take a boat ride out to Monkey Beach, or the uninhibited islands of Tulai and Renggis for a swim and picnic. If you're not a strong swimmer then slip on your life jacket and head out over the seas on a glass bottomed boat to see the diverse ocean wildlife without even getting wet. Meanwhile, Tioman's landscape is so interesting that visitors should explore it – try scaling up the 690 metre-high twin peaks of Gunung Nenek Semukut – Malaysia's highest freestanding spire and Tioman's highest peak. On the other hand visitors can visit the Asah waterfall or rent a bike to explore Tioman's five main villages – Salang, Tekek, Genting, Paya and Juara.
However if you're in the mood for a more routine yet calming activity, swing into action at the 18-hole Berjaya Tioman Beach, Golf & Spa Resort. Last, but not least, rejuvenate at the Ayura Spa in Berjaya Tioman Golf & Spa Resort or at the Paya Holistic Spa in Paya Beach Resort.
PULAU-PULAU DI TERENGGANU
The Perhentian Islands lie approximately 10 nautical miles off the northeastern coast of West Malaysia in the state of Terengganu, approximately 40 miles south of the Thai border. The two main islands are Perhentian Besar and Perhentian Kecil.
Situated 20 km off the coast of Terengganu, the Perhentian group of islands comprises of Pulau Perhentian Besar, Pulau Perhentian Kecil, Pulau Rawa, Pulau Serenggeh, Pulau Susu Dara Besar and Pulau Susu Dara Kecil. 'Perhentian' when translated from the Malay language means stop over. Dive operators and resorts are located on both Pulau Perhentian Besar and Pulau Perhentian Kecil offering various styles of accommodation to suit the visitor's budget and dive packages. A hop over to these enchanting islands will reward every visitor with the breathtaking view of their natural beauty - countless coconut trees lining their un-spoilt and pure white sandy beaches.
Perhentian Besar
As most of Perhentian Besar's interior is covered by virgin tropical jungle, hiking and trekking are there possible recreational pursuits. A luxury resort here can be booked for accommodation .At trip to this lush and exotic tropical island is a must for all nature lovers and those who enjoy scuba diving, snorkelling, deep sea fishing, swimming, wind surfing, sailing, boating and canoeing.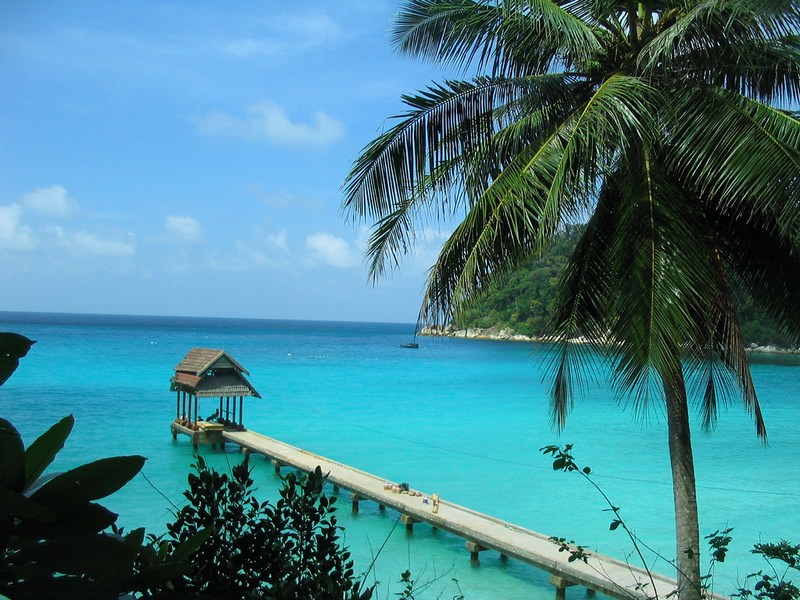 Perhentian Kecil
Claimed to be one of the best getaway beaches in the world among travellers and tourist. Long beaches (locally known as Pasir Panjang) prides itself with long stretch of sandy beach of fine sand with crystal clear water up to a depth of 20ft. Calm waters make you feel as you are in a very large swimming pool.
Pulau Redang
Redang Island
, locally known as

Pulau Redang

or just "Redang" is one of the largest islands off the east coast of

Malaysia. It is one of nine islands, which form a marine park, and which offer

snorkeling

and

diving

opportunities. Access is from Merang or

Kuala Terengganu

on boats operated by the resorts.

Redang Airport

is a small airport with services operated by

Berjaya Air

from Singapore

(Changi Airport) and

Kuala Lumpur

(Sultan Abdul Aziz Shah Airport).
The island is also an important conservation site for

sea turtles. Previously, the indiscriminate economic exploitation of turtle eggs had caused fewer turtles returning to nest on the island. This has led the Terengganu state government to set up the

Koperasi Setiajaya Pulau Redang

in 1989, a cooperative aiming to develop and manage socio-economic programmes that could improve the livelihood of Pulau Redang locals without endangering its natural resources.
The Pulau Redang

archipelago

comprises Pulau Redang, Pulau Lima, Pulau Paku Besar, Pulau Paku Kecil, Pulau Kerengga Kecil, Pulau Kerengga Besar, Pulau Ekor Tebu, Pulau Ling and Pulau Pinang. Pulau Redang is the biggest of all the islands in the

Marine Park, measuring about 7 km long and 6 km wide. Its highest peak is Bukit Besar at 359 metres above sea level. The boundary of the Pulau Redang Marine Park is established by a line linking all points 2 nautical miles (3.7 km) from the shores of Pulau Redang, Pulau Lima, Pulau Ekor Tebu and Pulau Pinang. The other nearby islands of

Pulau Perhentian Besar, Pulau Perhentian Kecil,

Pulau Lang Tengah,

Pulau Kapas

and Pulau Susu Dara are also gazetted and protected as Marine Parks. Today, only the bigger islands like Redang, Lang Tengah, Perhentian and Kapas have resort facilities for visitors. The management of Marine Parks primarily involves protection of the sensitive marine and terrestrial ecosystems by controlling the impact from human activities. These include waste & pollution management and conservation of

coral reefs

and terrestrial habitats.
The 2000 film,

Summer Holiday

was filmed on the Laguna Redang resort, and a replica of the tea house now serves as the resort's gift shop.
Pulau Tenggol
Pulau Tenggol
Pulau Tenggol adalah salah satu pulau yang paling indah di timur bayaran Malaysia - tahu perairan sempurna dihangatkan dengan Laut China
Selatan.
Pulau kecil dan kompak Pulau Tenggol adalah permata dilupakan ditetapkan di perairan biru jernih dari Laut China Selatan - sebuah zamrud
dari dalam, interior hutan hijau diapit oleh pantai serbuk putih dan terumbu karang yang indah.
Pulau alam dengan pantai jenuh dengan air hangat murni adalah penyelam 'dan snorkel' Syurga.
The Tenggol group of islands is the most southernly of Terengganu's Marine Parks. It consists of Pulau Tenggol (Tenggol Island), Pulau Nyireh, Tokong Timur, Tokong Burung and Tokong Talang/Tokong Kemudi, Tokong Laut.
Pulau Tenggol lies 14 nautical miles off the coast of quiet fishing town of Kuala Dungun, Terengganu, Malaysia. This rocky island about 50 hectares in size, spans less than 3 kilometres in length and 2 kilometres at its widest point, is one of the most beautiful and serene islands off Peninsular Malaysia's east coast, with spectacular rocky cliffs that offer many excellent dive sites.
One of the island's attractions is that it is close to its original state. A virgin island with its white sandy beaches backed by steeply forested cliffs is a pleasant retreat away from the city. Activities range from snorkelling, scuba diving, jungle trekking or just basking under the sun on the white sandy beach.
At Pulau Tenggol, divers and Snorkellers alike can find pristine coral formations and a number of submerged rocks with excellent coral growths. Tenggol and its surrounding islands offer good visibility with teeming of marine life, including sharks, rays, nudibranch and a wide variety of hard and soft corals.
Divers will discover that Tenggol offers great diving experiences, ranging from deep diving, drift diving and wreck dive for the advanced divers or experienced divers. The fantastic shallow dives are great for the least experienced divers or just for the experienced to off gas
Tenggol Island temperatures rage from breezy 320C in the day to cool 250C at night.
Pulau Kapas
Pulau Kapas


Pulau Kapas is an ideal island paradise with white sandy beaches fringed with shady palm trees making it a perfect retreat. The first impression is its laid back yet rustic ambience calling for pure relaxation. It offers a "home away from home" amidst a typical Malay village concept and hospitality.
Kapas Island is a small island consisting of merely a few holiday resorts. It will take just a couple of hours to stroll along the beautiful beach from one end to the other end passing all the holiday resorts. The other side of the island is however, only accessible through a jungle – trekking trail. One could view a spectacular sunrise over a private beach there.
Pulau Kapas offers a variety of adventures to sun and sea lovers. The hidden treats of nature's splendors are both on land and below the sea. You could track into the island's interior and amazed at the colorful natural flora and fauna along the way. Explore the most varied marine life among the many coral reefs around the island. Snorkeling and underwater diving is popular along stretches of shallow coral reefs of the island's western shore.
The island is just 4 nautical miles from Marang making it highly accessible from the mainland. The advantages of Pulau Kapas is its easy accessibility, wide range of activities and facilities. It is highly popular among backpackers as it is less expensive than other neighbouring islands yet offers equally good beaches.
July, August and the local holidays are the best times to go. An island famous for its clear waters, sandy white beaches and swaying palms, it is relatively isolated. Home to an infinite variety of hard and soft corals, the waters around the island abound with sea-shells, fish and turtles.
Kapas Island is famous for squid catching activities whereby tourist flock to the island from the month of April to September every year for this unique activity. Guest will go squid catching at night time by a local fisherman boat, equipped with the squid catching equipment to catch a squid as big as 20 inches long. The squid caught will be up to the guest for own barbeque and to be cook at the resort restaurant at a minimal charge.
The island is also a host for an annual International event 'Swimathon Event", which is held during the month of April every year. The event requires a participant to swim across the ocean from Kapas Island to the mainland which is approximately 6.5 kilometers in distance. This event has been attracting more than 200 participants yearly from all over the world.
Kapas Island Resort is located on Kapas Island off Terengganu State, East Coast of Peninsular Malaysia. The jetty to the island is 15 minutes drive from Kuala Terengganu town and 30 minutes drive from Kuala Terengganu Airport. The boat ride from Marang Jetty to Kapas Island Jetty takes approximately 10 minutes by a sheltered speed boat. Marang Jetty provides ample secured parking lots. If one chooses to drive, it will take approximately 5 hours non stop driving from Kuala Lumpur city to Marang Jetty.
Pulau Wan Man
Pulau Duyung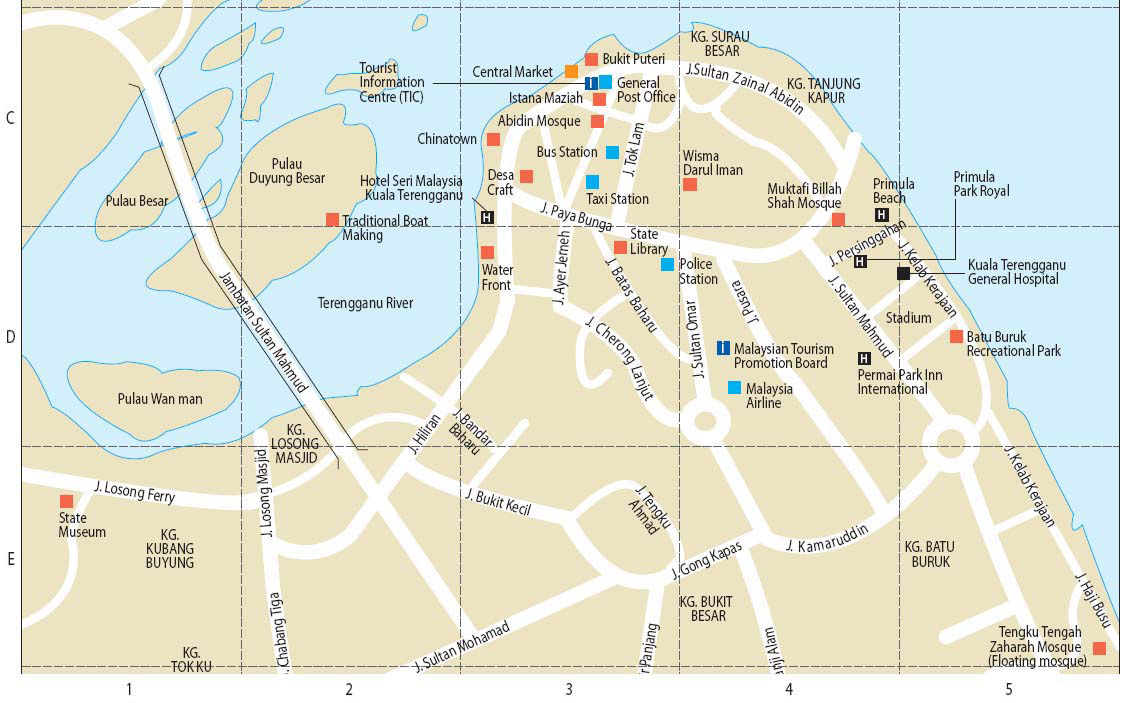 Pulau Bidong
Pulau Bidong
ialah sebuah pulau kecil di

Terengganu. Ia terletak 45 kilometer di luar pantai bandar Terengganu dan Merang di

Laut China Selatan.
Pada 8 Ogos 1978, pulau Bidong telah dijadikan tapak peralihan pelarian perang oleh kerajaan Malaysia dan Komisioner Tinggi Bangsa-bangsa Bersatu bagi Pelarian (UNHCR) dengan penempatan 121 pelarian Vietnam pertama. Sejak itu sehingga 1991, pulau ini menjadi tempat perlindungan bagi pelarian Bot yang melarikan diri daripada pemerintahan Komunis dari Vietnam.
Menjelang Januari 1979, terdapat 18,000 pelarian Vietnam di pulau Bidung dan menjelang Jun 1979 pulau ini pernah menempatkan sehingga 40,000 pelarian Vietnam dan yang lain-lain sebagai tapak peralihan semasa Perang Vietnam.
Selain daripada pelarian Vietnam, ia turut menempatkan pelarian Kemboja pada akhir 70-an, yang lari daripada regim Khmer Rouge.
Laluan mereka daripada Vietnam dipenuhi ancaman dan bahaya kerana bot pelarian adalah kecil, sesak, dan sering menjadi sasaran lanun. Mereka menjadi mangsa rompakan, diperkosa, dicacatkan, dan dibunuh. Beribu-ribu pelarin mati di laut sebelum sampai ke pantai Bidong.
Ketika ia ditutup pada

1991, kira-kira 250,000 pelarian berada di kem sebelun diterima kebanyakannya oleh

Amerika Syarikat,

Kanada,

Australia

dan

Perancis. Selepas kem ditutup, banyak pelarian telah dihantar pulang ke Vietnam.
Pulau Lang Tengah
Pulau Lang Tengah
.